Management Philosophy · CREDO
Management Philosophy
Happy Employees!
Happy Customers!
Contribute to Society!
To provide opportunities for the material and intellectual growth of all our employees, and through our joint efforts, we strive to realize our company's broader goal of not producing ground subsidence during shield constructions.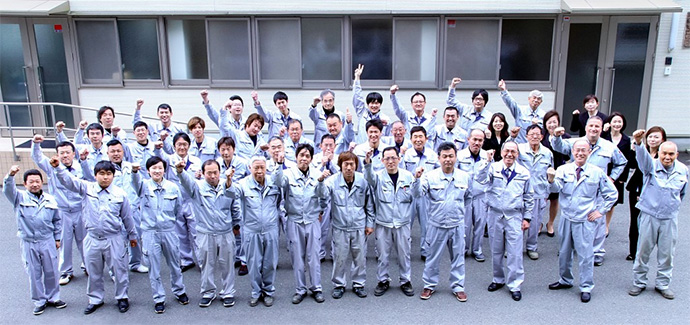 CREDO
《Mission》

We continue to grow and contribute to a safe and comfortable "town development" through the maintenance of the underground space by way of shield construction.

《Value》

We should propose materials and facilities based on the knowledge and technology gained from more than 1000 construction sites. Furthermore, we are committed to promptly offering great solutions for any challenge.

《Vision》

We aim to be as company that people can greatly appreciate by way of our passion and teamwork from a base of bring as the best technical group in the world.
Company CREDO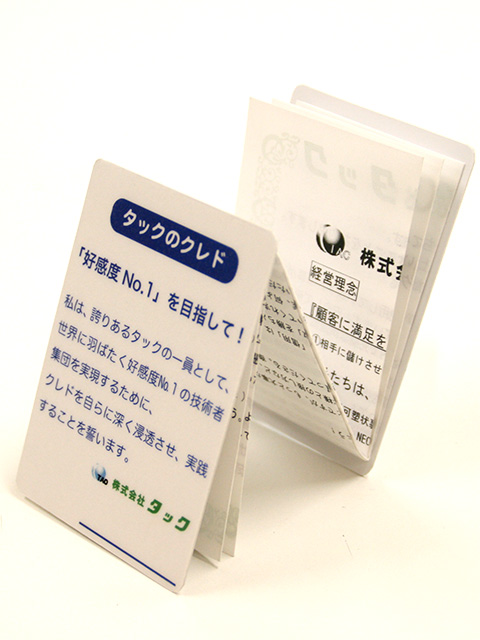 We will give warm and friendly greetings with a smile.
"Our Company is Our Home." We will not forget this thought. We will take care to keep our workplace clean, so we can welcome guests and customers to our company at any time. While working, we will clean up regularly and take care to be orderly and tidy.
"Our employees are the face of our company". We aim to create a lively company environment. We will talk with each other about something new or newly noticed in order to start the day off on the right foot in the morning.
"We commit to "HOURENSOU". (Which means in Japanese, Report "HOU", Contact "REN" and Consult "SOU"). We have to clearly inform the person in charge about the partner, the contents, the date in while reporting and record that information. We will solve problems that the person in charge cannot judge through consulting with coworkers throughout our company.
We will achieve maximum results with limited time and resources. We will prioritize work for tomorrow and announce it in the morning meeting each day so we can better understand the progress of each other and can work from high priority.
Safety is the top priority for all. Our company is determined to continues operating without causing an accident or disaster. We will build a great relationship with customers and absolutely do the following to keep developing:

Dressing poorly with bad style and poor appearance shows a lack of care.
We work with clean clothing and protect ourselves as a TAC employee.
In order to prevent accidents and disasters, it is important to imagine the work will do on that day and to recognize the dangers in it. Everyone can then understand these dangers and work safely by discussing today's work contents, dangerous points and risk prevention measures in the morning meeting.
We practice "pointing and calling" while working. Because of this measure we can prevent mistakes and disasters by pointing with our hands and by hearing our vocal checks.
Safety cannot be accomplished by only one person. We must not forget to constantly take care while working. We eliminate accidents and disasters by paying attention to anyone's behavior, improving it and understanding each other.

We will conduct test runs and inspections in our company, submit the accurate records and store them to offer facilities that people all over the world can use without worry.
We must respond promptly anytime, anywhere with passion within 24 hours to assist various site troubles.
In order to prevent trouble beforehand, we must share information within our company and strive to maintain the quality. We establish monthly site visits and confirm periodic inspection of plants, materials and evacuation sites.
"How are you?" Is the most important question to use in order to communicate with someone. Use this question to better understand our customer's thoughts, to improve daily, advance daily and to provide better technology and products.
A small piece of inspiration might be useful for the construction on the site. In order to be appreciated from customers, we make improvement proposals and product development. We should consider them in detail and apply them to our business.
We have accumulated knowledge and experience over forty years in the shield construction business. We will pursue unlimited possibilities for town planning that is safe and comfortable not only suitable for work. For example, we positively propose environmental conservation projects such as biodiesel fuel using waste edible oil.
We should value teamwork with everyone working together. We must not judge people from the position, age or experience and always should remember to respect and appreciate the people we are working with.
We strive to understand each other, keep in mind to listen and talk to the end of a topic and discuss with each other in good spirits. In doing this, we can find help and hints to improve ourselves from these discussions. It's important to always care about people and help each other.
Our company CREDO is an important belief that we decided to practice. We all understand it well and always carry a copy of it on our person, so we can check it anytime.