Pursuing evermore effective backfilling methods by utilizing tireless and diligent development. Our proprietary NEO-TAC method realizes safe and reliable backfilling injection.
What is backfill grout injection?
Shield construction tunneling allows excavation while preventing tunnel collapse by assembling steel or concrete segmented blocks in a ring conformation to create a tunnel structure. The purpose of backfill grout injection is to immediately fil voids left by the TBM body between the tunnel wall and the segmented blocks, preventing subsidence in the surrounding ground structure.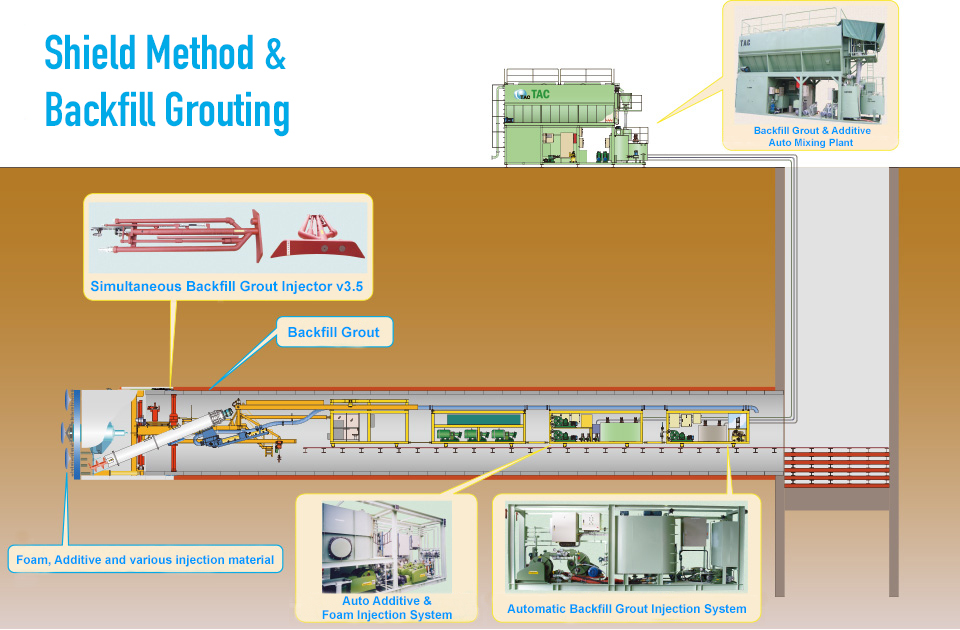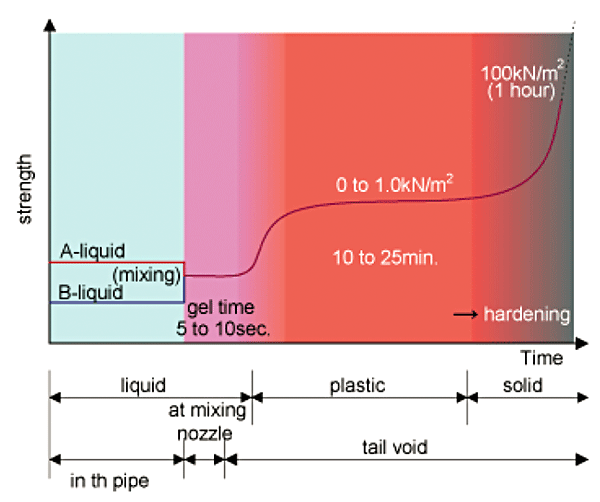 In 1976 TAC Corporation developed the world's first two-part clay-sand type Backfilling Grout Injection method, named the "TAC Method".
The "NEO-TAC Method" is an improvement on the TAC Method characterized by diluted backfilling grout injection, showing early strength and reliable filling properties. By setting air volume to 10%-15% we can realize considerable improvement in long distance pumpability and marked improvement in long-term stability, as well as prolonging the workable life of the backfilling material, thus delaying the time of setting. This is all achieved using the two-part liquid backfilling grout injection method.
Main chrateristics of construction using the NEO-TAC Method.

Reduce stress of tail voids by using pressurized and compressed air during backfilling grout injection.
Reduce the stress change to the surrounding ground by making the fluctuation of the pressure gentle.
Reduce volume of water to achieve early strength development and strength enhancement effect.
Improve filling ability of tail voids using fine air bearing effect.
Long distance pumping of backfill is possible.
Workable lifespan is excellent.
Long term stability is excellent.
Excellent filling properties.
Resistant to dilution with water.
Early strength of backfilled grout.
Suitable for simultaneous backfill grouting.
No change in volume post-curing.
Easily managed for construction.
Pollution free.
Backfill Grout Material Test (Flow Value, Gelling Time, Uniaxial Compression Test)
Other features.
Prior to injection, NEO-TAC has excellent fluidity as well as resistance to material separation so it is very usable for filling narrow tail voids because of improvement of workability during injection. The NEO-TAC Method also exhibits excellent strength after injection and in the long term it can be characterized by low water permeability (less than k=10cm/sec), excellent heat insulating properties and high resistance to frost heave action.
Properties of Frozen Mortar
When thawing

After thawing

Measure Permeability Coefficient